User name:
Jeff Westover
Christmas Review Type
-- Christmas Product
What is it called?
-- Scentsicles
Please provide a link, if available
--
https://scentsicles.com
Photo Upload
--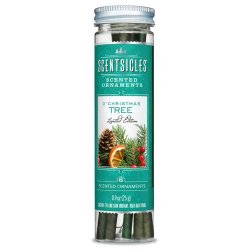 How did you acquire it?
-- I bought it
Where did you purchase it?
-- Big box store (Walmart, Target, etc)
How much did you pay for it?
-- $5
In your own words please explain your experience, what you liked, what you didn't, etc.
-- I really miss the tradition of cutting down a tree partly because the smell it brought into the house was always so tremendous. It added a lot to the season. Living in a place where a real tree is just not possible this seemed like a great idea. But instead of making our artificial tree smell like a real tree these things just made it smell like a candle. It's a great idea that's just not perfected yet. You only need one or two on the tree at a time. My daughter put like ten on the tree at first and it cleared the room for three days. They do diminish in potency over a couple of days.
Was it worth the money?
-- No
Please give a rating
--
3 Stars - Average
Would you recommend this to other Christmas enthusiasts?
-- No
Any advice or suggestions you would give to the maker, artist or producer?
-- I have half a container full of these things leftover after the season. Not sure if they will be good next year. The package I bought had way too many for just one season and I think they might be better packaged at a lower quantity for a better price.