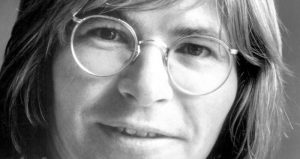 Each decade seems to produce a dominant performer in the popular music of Christmas. In the 1970s that performer was John Denver.
Born Henry John Deutschendorf, Jr in 1943, John Denver first rose to fame as the lead of The Mitchell Trio. As a late sixties folk-singing anti-government group The Mitchell Trio was slightly out of step with the times because they were clean-cut and wholesome. By 1969 Denver set out on his solo career.
For Christmas Denver gave friends and family a demo recording of songs, some which he wrote himself. One he titled, "Babe, I Hate to Go". The song was given to Peter, Paul and Mary and renamed "Leaving on a Jet Plane", which went on to become Denver's first legitimate hit song as a songwriter.
RCA signed him to a contract and Denver broke through in 1971 with Poems, Prayers and Promises, an album that featured the hit single, Take Me Home, Country Roads, which cemented Denver's image as a positive environmentally sensitive country boy. With an infectious smile, a frequent laugh and a light-hearted "Far Out!", Denver built a loyal fan base that would carry him to the top of pop fame through-out the 1970s.
A series of albums from 1972 to 1974 catapulted Denver to A-list status among American entertainers. In 1972 he released Rocky Mountain High, a song that has become an anthem in the state of Colorado, where Denver made his home. That was followed with a string of number one hits including Sunshine on my Shoulders, Annie's Song, and Thank God I'm a Country Boy.
In 1975 Denver released his first and biggest Christmas album titled Rocky Mountain Christmas.
It was accompanied by a network television special of the same name that went on to set a viewing record for ABC at the time. It was seen by more than 60 million people, which was bigger than television specials of the time by Bing Crosby, Andy Williams and Perry Como.
While the album featured several classics of Christmas in John Denver style the standout songs were those not known previously to listeners. Christmas for Cowboys was a minor hit, reaching #58 on the charts and it remains one of Denver's most long-standing Christmas replays:
As with most Denver albums two themes emerged from Rocky Mountain Christmas: Denver's love of nature in Aspenglow, and Denver's family relationships in A Baby Just Like You.
One song, Please Daddy Don't Get Drunk This Christmas, seemed targeted at Denver's critics.
Though massively popular, John Denver and his music were relentlessly pummeled by critics for their positive, wholesome nature. He was teased for his granny glasses, his hair style, and his good-natured disposition. He was called an artist without an edge for these kinds of things.
Some critics of Denver included other artists. In 1975 Denver was named the Country Music Association's Entertainer of the Year. The previous winner of the award, Charlie Rich, set fire to the envelope containing notification of the award in protest of Denver's selection.
John Denver was considered a light-weight, both for his image and his artistry. The New York Times and especially Rolling Stone relentlessly targeted Denver saying, "John Denver is an enigma in a myth wrapped in sunbeams".
The Village Voice called Denver a "rank hypocrite" saying "…his philosophical concept of the world—selling the notion of pastoral isolation to a mass audience —is so full of contradictions I can't believe he doesn't see it himself."
The critics of John Denver haunted him to his grave. While he was always humble in describing himself — "I'd like my voice to be more resonant think it's a little thin. I'd like to have a wider range. I'm not a great singer. I'm not a great songwriter", he said in 1976 – Denver was offended by what the critics were saying about his audience: that they were vanilla, dumb and ignorant of important social issues.
Denver took great exception to that.
While Please Daddy Don't Get Drunk This Christmas did not chart as a hit of Christmas it has over time become one of Denver's calling cards in the history of Christmas music as many rank it one of the worst Christmas songs of all time for it's sad and depressing message.
Denver's Christmas television special featured stars Steve Martin, Valerie Harper and Olivia-Newton John, with whom he collaborated on several music projects over the course of his career. During the 1970s Denver would perform with many musical stars – Frank Sinatra, Johnny Cash, Placido Domingo and, famously, the Muppets.
In 1979 Denver starred in a television special titled A Christmas Together with the Muppets. The soundtrack from that special has gone on to far greater fame than the television show. It was originally released in 1979 but we re-released in 1990, 1998, 2000 and again in 2006. The album rose to #13 in the US, going Platinum in time.
Denver's third and final Christmas album was released in 1990 and is titled Christmas Like a Lullabye:
While John Denver's Christmas albums never hit the high of other artists such as Crosby, Sinatra and Williams they have endured, continuing to convey Denver's messaging of nature, love and family.

Father of 7, Grandfather of 7, husband of 1. Freelance writer, Major League baseball geek, aspiring Family Historian.