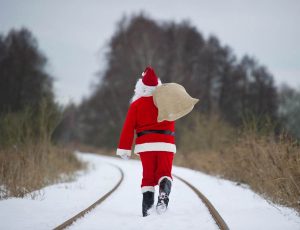 I was on my way home by way of country roads, having escaped the interstate on a busy Friday afternoon about a week before Christmas. As I came through the small pass on the two lane road I saw a vehicle coming from the other direction.
As it was heading west I could see clearly inside the car – it was Santa Claus, driving a small pickup.
I smiled to myself, rolled down the window and waved.
Santa waved back.
It was great Christmas moment, one that filled me with good cheer.
Four days later I found myself driving that same road, this time in a snowstorm. The conditions were pretty bad and the going was slow.
I saw flashers ahead where the road began to incline and slowed to see what was happening, a bit unhappy to lose momentum as we headed up the hill.
To my surprise I saw Santa again, this time out of his vehicle and pushing another from behind.
I stopped, got out of the car and began to walk up to Santa as he gave a big heave and helped push the vehicle back on the road way.
"There you go!" he yelled, to a woman driving the car who was now moving forward.
He turned and smiled at me, a bit out of breath. "Hello!" he said.
I asked if he was alright and needed help. He nodded slightly and thanked me. "No, I'm fine, thank you" he said. "She was just stuck. And I'm a little late."
And with that he got back in his Toyota and headed on his way.
This was the 2nd time I had seen this Santa in less than a week. I wondered what his story was, so I followed him.
We drove only a few miles or so arriving at a small northern Utah community. Santa parked behind a downtown building and began to walk toward the city hall, where a small park was festively lighted with Christmas lights and decorations.
There, in the middle of the town square, was a little red and white house – Santa's cottage. Santa went inside and closed the door.
I called my wife and told her I would be late. I had the feeling I was witnessing something with this Santa. So I grabbed my camera, noticing a line of families with children already lined up.
Not wanting to disrupt any of the families visiting there with Santa I ducked into a bookstore to keep warm. For about an hour he greeted kids.
I observed a woman dressed in a festive red dress and wearing a white wig show up and wave to Santa. Mrs. Claus had arrived. She began to greet people at the door, handing out candy canes and Kleenexes.
For another 40 minutes or so they greeted everyone who came inside but the temperatures outside were bitter and the sun had long set.
As the early evening wore on things slowed considerably for Santa, so I made my move.
I arrived at the door and was warmly greeted by Mrs. Claus. She saw my camera and commented about how complicated it looked.
She asked if I had any children with me and when I told her I had left all the kids at home she laughed about me wanting for Santa all to myself.
Just then some real customers came in and I stepped aside. A woman with four children – a daughter who appeared to be about 11 or 12, a son who was about 8, a little girl who was maybe 6 and a little one, another girl, who could not have been 3 years old.
As Mrs. Claus chatted with the woman I watched Santa do his thing with the kids.
He was a master.
Santa wisely focused on the 6 year old, who brightened right away at Santa's attention.
Santa asked all the children to come forward but the little one was so reluctant that the older girl had to pick her up.
Santa addressed them all as a group, commenting on their clothes and asking them questions. Within a minute or two the 6 year old was on his lap.
I watched as Santa observed the reactions of the other kids as he chatted up the 6 year old. She was a chatterbox, full of comments and excitement. Santa hugged her, nodded and smiled but kept his eye on the others at the same time.
He seemed to be concerned with gaining the trust of the skeptical 3 year old who clearly clung to her sister in fear.
Santa asked the 6 year old if it was ok if her brother sat on his other knee. She consented and Santa slapped his knee, inviting the boy to sit down.
I moved in a little closer, attempting to hear what he was saying while looking outside the cottage windows at the lights outside, trying not to be noticeable.
I heard Santa kind of clear his throat and noticed he kind of signaled me with his eyebrows. There was a chair near the window, so I grabbed it and offered it to the oldest girl, who was holding the baby on her hip.
"Well, thank you, young man!" Santa boomed. "That's a great idea!" He said as he patted the chair, inviting the girl to sit, bringing the little one ever closer.
Santa now had all four children close to him and seeing that no other people were coming into Santa's Cottage he took his time with them.
From a distance I could see Mrs. Claus eyeing us.
She saw what was happening and gently guided the children's mother to the other side of the door, claiming it was warmer there.
What she was really doing was putting Mom in position to see her children interact with Santa. Their chatter stopped as both watched Santa at work.
Santa now had eye contact with all the kids, telling little jokes and getting them to laugh.
He kept his voice soft, he didn't make any sudden movements and he slowly gave the 3 year old just enough attention to make her curious as she watched her siblings thoroughly enjoying his company.
Sure enough, when Santa suggested she sit on his knee next to her brother, she jumped at the chance. I heard her mother gasp in surprise when she went to Santa.
"I wish I had brought my camera, Santa" the mother said.
I told the lady I would be happy to shoot their picture and email the image to her. Santa acted like we were old friends, though we were really strangers to each other.
"Oh yes," he chimed in. "I'd a like a copy of that picture too!"
I handed Santa and the mother my business card. Reading that it said "MyMerryChristmas.com", Santa smiled and said, "Oh, you are a good boy indeed!"
We exchanged some information and the mother with her children bid Santa a fond goodbye.
Now it was finally my turn with Santa.
I've seen and met with a lot of Santas in my time. They come in all sizes, shapes and personalities. I've rarely met one I didn't like.
But there was something about this Santa.
He had a twinkle in his eye, like many do, but he also oozed a spirit I couldn't quite put my finger on.
He commanded attention in the most unobtrusive way. He was Santa—to the core.
"You," he said with a chuckle, pointing a gloved finger in my direction. "…seem to be stalking me."
I had no idea that this was the beginning of a conversation that would transform – yet again – my perception of Santa Claus.
I'm 50 years old, and I never seem to stop learning something new about the man.
I was about to be schooled by Santa himself.
This is the first in a series of articles about the Servant Santa, the true tale of a small town volunteer Santa and one extraordinary year of following him. In Part II of this true story we learn the Servant Santa is more than just about kids.

Father of 7, Grandfather of 7, husband of 1. Freelance writer, Major League baseball geek, aspiring Family Historian.