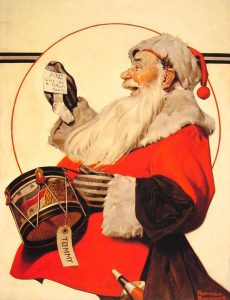 He won't let me tell you his name. In fact, he doesn't go by anything but Santa.
Most Santa portrayers I have met like to be called Santa James or Santa Smith – some combination of their real first or last names or even the names of the places where they live.
But not this Santa.
In fact, it took me a week to even learn what his real name is.
He invited me to come back the next day to talk. He was scheduled again to work the cottage in the evening hours but he was coming to town around at about 2pm to do a "walkabout".
I had never heard of that before and asked him what he meant.
He chuckled and said, "That's my favorite. I get to kiss babies, eat candy and talk shop. You can be my helper. But no camera, leave it at home"
I met him at the north end of Main Street next to a car dealership.
He parked his pick-up and got out in full Santa regalia. He handed me Mrs. Claus' basket of candy canes and with a smile said "I hereby dub thee honorary elf. Your elf name is Ding Dong."
Evidently my job would be to hand out candy canes.
We walked straight into the car dealership.
Like Norm on "Cheers" the minute Santa walked through the door the place erupted in calls for him – "Santa!"
He shook hands with all the men, hugged a couple of women but finding no children in the place he quickly bid everyone a great afternoon.
"How many places are we going to?" I asked.
He laughed. "All of them," he said. "Or until it is time to take a seat."
With big steps he pressed forward stopping in every establishment that was open. Not a soul called him anything but "Santa".
And he seemed to know a bit about everything.
At the motor sports store he talked snow mobiles with a pony-tailed gentlemen for 15 minutes, dispensing advice on where to go in the back country locally.
In the bookstore he engaged with a woman in conversation about a recipe she was considering from a cookbook on the shelves.
He talked guns at the gun shop.
At the gas station he explained to a young female driver how to check her oil and encouraged her to do it herself instead of always relying on her father or brother to do it for her.
In every instance he inquired after their wellbeing and their plans for Christmas. He never failed to get a smile.
We walked into a candy shop and I suddenly felt a little pressure.
Here I was handing out candy and I perceived I would upset the shop's proprietors.
So I held back a little.
But not Santa.
Going right up to an older woman working the counter he insisted I give her a candy cane, so I did.
"Rita is my favorite customer," he said to me, smiling at the woman. Rita was a delightful lady, delicately dressed in a warm sweater, her soft skin an alabaster white that showed her blushing with every compliment Santa threw her way.
Clearly Rita and Santa knew each other well.
She came out from behind the counter and asked us to sit at one of the small tables they had there.
As we sat, Rita smiled and patted Santa's hand as they chatted about her home, her cat, and her children and grandchildren living a distance away.
Santa didn't rush her but she seemed to know his time was in demand and before long she told us we better go find some kids to make their day.
Handing us each a piece of chocolate she bid us farewell and thank you.
For more than three hours we walked up and then back down Main Street, finally making our way back to Santa's cottage in the dark.
Though we had seen several children on our walkabout I was absolutely stunned to see what seemed to me hundreds of kids lined up to see Santa.
Before going in the door, Santa engaged the crowd and led them in a rousing round of Jingle Bells.
Mrs. Claus was already there.
She skillfully took the basket from me and she started to work the front end of the line. "You want to start from the back?" she suggested to me. So off I went while Santa sat down and went to work.
I was amazed at the speed at which he worked and yet how personal he made each exchange.
It had to be exhausting for him. He bent, he stooped, he placed kids on his knee, he high-fived, he smiled, he posed and he even took pets.
Nothing that was asked of him was refused and no question was dodged.
By this time I had been with him for six straight hours and I was beginning to fatigue.
It was cold, my feet were sore, and I was wondering how much good cheer was in this bottomless well of Santa Claus.
Another long hour passed, the line faded and then disappeared.
I watched in surprise as Mrs. Claus looked at her watch and declared they needed to hurry.
There was one more stop to make for the night – to crash a church Christmas party.
For just a brief second Santa and Mrs. Claus argued.
She wanted to drive but he didn't think Santa should ever show up in a Cadillac.
She hated the old truck. I offered to drive – I had a Buick – and this seemed to suit them.
When we got to the church I could not believe my eyes – a least a hundred more kids.
Santa made his entrance, took his chair and again Mrs. Claus and I worked the line.
It was inside, so it was warmer but it was well past ten o'clock by the time Santa was done.
As we trudged out to the car I finally heard Santa heave a tired sigh.
"Aren't you tired?" I asked him.
"Yes, I'm tired," he said. "But Santa could go all night."
Thinking about that, I joked: "I could never be Santa, then."
"If you can't," he told me, "you shouldn't ever be Santa."
He was serious.
I took it as my cue – it was time to ask him some questions.
His answers, in light of all I had seen him do for several hours that day and evening, stunned me even more.
As he removed his beard and took a long pull from a bottle of water I knew I would be coming back to this town, regardless of how our conversation went.
I needed to see Rita alone.
This is the 2nd in a series of articles about The Servant Santa, the true story of an ordinary man doing extraordinary things as a volunteer Santa in a small town. In Part III, we learn how Santa won the heart of a little old lady beloved to the townspeople as The Candy Lady.

Father of 7, Grandfather of 7, husband of 1. Freelance writer, Major League baseball geek, aspiring Family Historian.