Country superstar Carrie Underwood has announced that she will release her first full Christmas album later this year. No date for the release has yet been announced but drops for major stars like Underwood usually happen towards the last two weeks of October.
Underwood does have some Christmas under her belt. She previously recorded Do You Hear What I Hear, Hark! The Herald Angels Sing, The First Noel, What Child Is This and O Holy Night for a special holiday edition of her Carnival Ride album, which she released as a Walmart exclusive in 2007.
The country superstar delivered the good news on Wednesday (June 3), during a virtual fan club party that she hosted to replace the full-scale fan club party she would normally hold during this week during CMA Fest. Underwood, like nearly all performers, has been under quarantine and unable to perform as scheduled during most of 2020.
No further information, such as a track listing, is available at this time. Rumors have it that the album will contain some non-traditional stuff.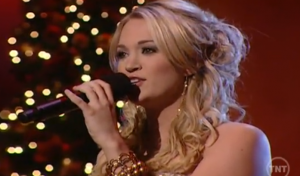 Carrier Underwood famously made her celebrity debut in 2005 after winning the fourth season of American Idol. Underwood has sold 70 million records worldwide. She is the fifth highest-certified female artist of all time on the RIAA's Top Artists (Digital Singles) ranking, the highest-certified country album artist to debut in the twenty-first century and the woman with the most number-one singles on the Billboard Country Airplay chart, with 15. Her accolades include seven Grammy Awards, 11 Billboard Music Awards, 15 American Music Awards, a Guinness world record and inductions into the Hollywood Walk of Fame and the Grand Ole Opry. Billboard named her the top female country artist of both the 2000s and 2010s, and Some Hearts the top country album of the 2000s.
Underwood's influence has stretched into fashion and fitness. She recently released her first-ever book, FIND YOUR PATH: Honor Your Body, Fuel Your Soul, and Get Strong with the Fit52 Life, which hit shelves in March.

Father of 7, Grandfather of 7, husband of 1. Freelance writer, Major League baseball geek, aspiring Family Historian.