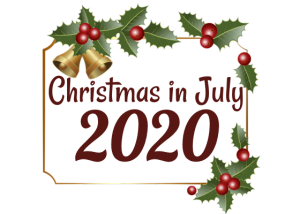 If you're a Christmas writer or just a lover of all things Christmas we invite you to participate in MyMerryChristmas' Christmas-in-July Blog-a-thon 2020. This is your chance to share some merry thoughts on our big Christmas stage.
Until July 31st, 2020, we will be accepting written articles on the following topics:
The Most Important Christmas Movie of All Time – Christmas movies are as big a tradition as mistletoe and holly. Everyone seems to have a favorite. But for as much as they make us laugh and cry, Christmas movies can also make us think. This topic explores not just what makes a Christmas movie good but what makes a Christmas movie important.
How I Plan to Spend the Covid Christmas – Nobody knows what to really expect of Christmas 2020. Will we be in lockdown? Will there be Christmas concerts? What about Christmas shopping? Can we see Santa? Everyone is thinking of alternative ways to Christmas. What's yours?
Things my Grandparents Taught Me About Christmas – Christmas is about family and it is the one time of year where real lessons are passed from one generation to the next. Pay tribute to your family by sharing what they taught you.
The Best Christmas Ever – Memories of Christmas are meant for sharing. In this topic we want you to tell your favorite Christmas of being a giver, a receiver or just a believer in what you recall as your best Christmas ever.
Christmas Miscellaneous – Surprise us! If you've got a Christmas topic, an opinion, a memory or anything Christmas related that you feel folks will appreciate, share it!
Here are some guidelines for this Christmas sharing event:
Submissions for this event should be between 500 and 2000 words. Articles entered cannot have been published previously elsewhere and may not contain material written by someone else. Quotes from other articles, movies, poems, books, or other material must be clearly noted with the source cited.
Submissions must be entered via this link. No articles will be received via email, forum or social media posting.
MyMerryChristmas reserves the right to publish, at its sole discretion, some, all or none of the submissions for this event to coincide with the scheduled Christmas in July events of 2020. Some entries may be held back for later publication during the 2020 Christmas season.
Anyone can submit an article. You do not need to be a member of MyMerryChristmas.com or a professional writer or blogger.
Articles may be edited for grammatical accuracy.
Links are allowed within submissions if relevant to the article content. Links should not be included to commercial entities. Affiliate links are strictly prohibited. MyMerryChristmas.com reserves the right to edit or delete links.
Images are allowed and encouraged. Submission of images with the article assumes you hold the copyright to the image and grant license to MyMerryChristmas to use it in publication. Articles submitted without images may have appropriate images attached to published articles at the discretion of the editorial staff at MyMerryChristmas.com
There is no compensation or prize associated with this event. However, MyMerryChristmas will promote each published article on its websites, on the Merry Forums, and perhaps on our associated podcasts and social media channels.
For further clarification or to discuss concerns about your submission, please contact us. To submit your entry please use the form below:

Father of 7, Grandfather of 7, husband of 1. Freelance writer, Major League baseball geek, aspiring Family Historian.