The United States Post Office will officially distribute new Christmas stamps for 2017 on October 5th. Christmas card exchange fans will be pleased with the festive theme celebrating famous Christmas carols in this year's design.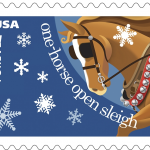 "Jingle Bells", perhaps the mostly widely heard, sung and known Christmas carol is an all-American creation dating back to the 1850s. Lyrics featured on the stamp honoring this song are "One Horse Open Sleigh". Interestingly enough, though commonly associated with Christmas the song never once mentions Christmas in its lyrics. It does set itself aside as an American classic by really being a song about driving fast and picking up girls. The song was written by James Pierpoint. Pierpoint was born the son of a minister but lived the life of a wanderer. He left his family in New England to strike it rich as part of the California gold rush but failed in his business endeavors. While he was gone his first wife died. He returned to the east, settling in Savannah, Georgia, remarried and became a church organist. It was during that time that Pierpoint wrote Jingle Bells, a song inspired of his boarding school days in New England and one intended to celebrate Thanksgiving.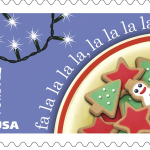 "Deck the Halls" features art depicting Christmas lights and Christmas cookies and features the distinctive lyrics of "fa la la la la", unique to "Deck the Halls". The origin of the melody to "Deck the Halls" is unknown but believed to date from Wales in the 16th century. The words only date back to the 1860s. Some point to the song as proof that Christmas has pagan roots due to use of the words "deck the halls with boughs of holly". But with the words being only composed in the 19th century this hardly constitutes proof at all. Holly is frequently used in winter decoration simply because it is green. Other distinctive words in this song include "troll the ancient yuletide carol", which means to sing loudly and merrily.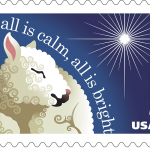 "Silent Night" is featured with the words "All is Calm, All is Bright". The song, of course, tells the Nativity story. In Oberndorf, Austria on Christmas Eve of 1818, Joseph Mohr, an assistant pastor, took the words of a poem he had written previously to Franz Gruber, a schoolteacher and talented musician. Joseph asked his friend to put the lyrics to music so that it could be performed that very night at Midnight Mass. The result was Silent Night, sung as a duet by Mohr and Gruber. They were accompanied by the Church choir and a guitar. Like most precious things associated with Christmas, Silent Night was passed on from person to person as it touched lives. For Christmases to come, the simple hymn was performed first in families, then by traveling chorales, and eventually it was performed in capital cities before royalty. In the nearly 100 years it took to be known of the World War I generation, it had been performed in dozens of languages.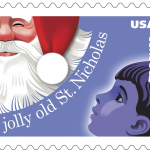 "Jolly Old St. Nicholas", another classic American carol, dates to the 1860s, just as the character of Santa Claus was coming into his own in Christmas music. This is the only stamp in this series that features the title of the song on the stamp. It is interesting to note the reference to St. Nicholas considering the date of this song's creation. While St. Nicholas was known he really began to take a back seat to the Americanized Santa Claus nearly a quarter century before the creation of this song. But once upon a time parents in America used to tell their children stories of Christmas that featured St. Nicholas as part of the Santa Claus narrative, an art that seems to have lost it's way in modern Christmas tradition.
Christmas stamps remain a tradition, even in an age when experts say the art of sending Christmas cards is waning.
Some believe the tradition of Christmas stamps is quite old within the United States but it is actually a fairly recent tradition. The USPS released its first holiday stamps in 1962 after years of requests from stamp collectors and Christmas fans. The red and green 4-cent stamps featured a wreath, two candles, and the words "Christmas 1962." The stamp proved so popular than more than 1 billion of them were sold.

Father of 7, Grandfather of 7, husband of 1. Freelance writer, Major League baseball geek, aspiring Family Historian.