Dang Near Santa Himself
MMC Member
MMC Premiere
Sep 14, 2019
5,698
38,817
265,881
38
Evening Halloween friends! I've pretty much finished up everything as far as my Spooky Spring planning is concerned.
I've picked out the special wallflower fragrance plugs and scents to use for Spooky Spring - My haunted conservatory will run here in the main living room and have "Vampire Blood" Scent (my favorite ever wallflower scent, btw). In our master bedroom I will have my Spooky Halloween Tree that will be running "Wicked Vanilla Woods". And here by the front door in the dining room, I have a raven that sits on a pumpkin and I'm thinking about using an apple cinnamon or other standard fall scent there.
The decorations are coming out on Thursday night! I've got the two giant plastic jack o lanterns that are battery operated, as well as my electric incandescent Jack O Lantern that started Jack O Lantern day so many years ago.
I decided that beginning on April 1st, I'm going to try and watch at least one scary movie a day, and I'm going to keep Sundays free for "Dark Arts Sunday", I will keep the Harry Potter movies on rotation every Sunday of April. I'm going to publish my list of movies below, they are the same movies I play at my leisure during "Fall Preseason" and Spooky Season and beyond - they are in no particular order or ranking.
Food and Drink will be easy - copious amounts of cherry cider and Reese's candy. I've also asked Mrs. Snake to make her famous Fall spice cake, and I'm hoping for an Apple Pie as well over the course of the month.
Finishing up, I do plan on doing a "Halloween" (Michael Myers) marathon beginning on April 24th. My plan is to do every "original" Michael Myers movie, and if it all works out, I'd like to incorporate the "new" Halloween movies as we finish up. Either way, "Halfoween Night" will have OG Michael Myers (1978) on the screen.
I also will be taking a "break" from Spooky Spring festivities on Easter Sunday.
I think that's it folks! I'm sure some things might change organically on the fly, but it feels good to see all this ahead of me, and to have the month of April to look forward to. Here is my movie list, complete with "Halloween Duds"!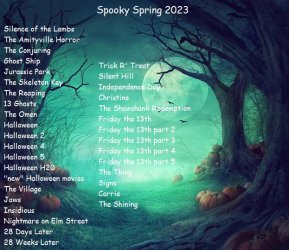 I can't wait to see / read your plans as well! This is going to be great!